Visto che mi piace tenermi e tenervi aggiornati, mi piacerebbe segnalarvi periodicamente mostre, eventi, curiosità e, in generale, articoli di interesse in cui mi imbatto quotidianamente. Ovviamente l'ambito è quello dell'arte e della cultura. Eccoli a seguire.
…………………………………………………………………………………………………….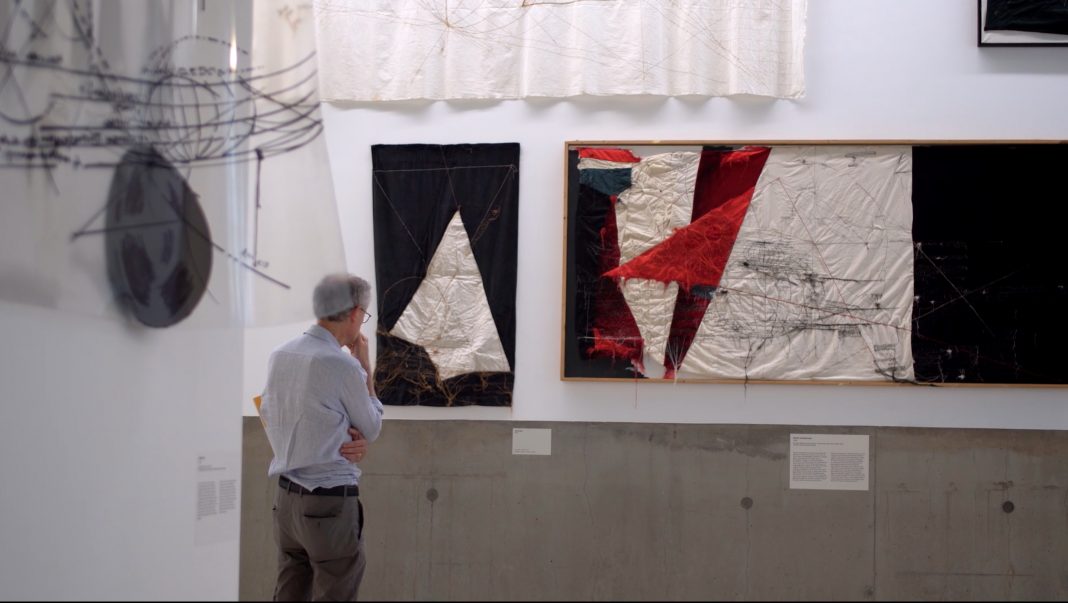 Alla Stazione dell'Arte, "Sulle tracce di Maria Lai": il documentario per la prima volta in Sardegna
Fonte: Exibart
Oggi, 8 settembre, a Ulassai si celebra l'anniversario dell'opera di Maria Lai (1919-2013) Legarsi alla montagna che nel 1981 coinvolse l'intero paese anticipando l'arte relazionale. In quest'occasione la Stazione dell'Arte porterà per la prima volta in Sardegna Sulle tracce di Maria Lai, il documentario di Maddalena Bregani dedicato all'artista nel centenario nella sua nascita, prodotto da LaGalla23 con la consulenza scientifica di Davide Mariani…
Continua a leggere
…………………………………………………………………………………………………….
A Colorful New Comic-Book Biography of Artist Yayoi Kusama Follows Her Trials and Triumphs
Fonte: Artnet
You've seen Yayoi Kusama dotted merchandise and children's books; listened to Kusama-themed podcasts; and even seen the documentary chronicling the Japanese artist's life and career.
Now, for the first time, Kusama stans can read about the artist in the form of a graphic novel…
Continua a leggere
…………………………………………………………………………………………………….
"Viaggio in Italia", il bando lanciato dal MiBACT per promuovere il turismo di prossimità
Fonte: Artribune
Quella che sta per concludersi è stata un'estate diversa dalle precedenti, condizionata dall'emergenza sanitaria globale: il Covid-19 ha costretto il mondo intero a cambiare abitudini e stili di vita, e di conseguenza anche il modo di spostarsi e fare vacanza. "Sarà un'estate all'insegna del turismo di prossimità" diceva il premier Giuseppe Conte alla fine del lockdown, e così è stato per molti italiani che, impossibilitati a viaggiare all'estero, hanno però avuto la possibilità di scoprire e riscoprire tesori paesaggistici e culturali a pochi passi dalla propria casa…
Continua a leggere
…………………………………………………………………………………………………….
La Biennale espone se stessa
Fonte: Il Giornale dell'arte
Si è aperta il 29 agosto «Le muse inquiete. La Biennale di fronte alla storia», la mostra organizzata dalla Biennale di Venezia nella ricorrenza del suo 125mo anniversario. Allestito da Formafantasma (Andrea Trimarchi e Simone Farresin) in 4mila metri quadrati nel Padiglione Centrale ai Giardini fino all'8 dicembre, il percorso racconta l'intreccio delle sei arti che oggi coesistono sotto l'egida dell'istituzione veneziana, fondata nel 1893 per organizzare la prima Esposizione Internazionale d'Arte nel 1895, e presieduta dallo scorso gennaio da Roberto Cicutto che succede a Paolo Baratta…
Continua a leggere
…………………………………………………………………………………………………….

Al via Cantica21. Italian Contemporary Art Everywhere a sostegno dell'arte contemporanea italiana
Fonte: Artribune
Si può creare una sinergia tra le istituzioni e gli artisti? Sì, con l'iniziativa Cantica21. Italian Contemporary Art Everywhere. Il progetto che unisce i ministeri MiBACT, Direzione Generale Creatività Contemporanea e MAECI pone l'arte come strumento prioritario per interpretare la contemporaneità e offrire una narrazione inedita e identitaria dell'Italia di oggi…
Continua a leggere
…………………………………………………………………………………………………….

'What Is an Exhibition Without an Opening?': New York City Galleries Kick Off a Surreal Fall Art Season Unlike Any Other
Fonte: Artnet
As Labor Day fades from view and September stretches its legs, New York City has completed a journey that perhaps no other metropolis in memory has ever traveled as quickly. Described in early April as "the epicenter of the epicenter" of the US's coronavirus pandemic, the Big Apple rallied to become arguably the safest urban center in America by mid-summer…
Continua a leggere
…………………………………………………………………………………………………….

Meta Vaux Warrick's Poetic Sculptures Heralded The Arrival of The Harlem Renaissance. Here's Why You Should Know Her Name
Fonte: Artnet
Artist Stories brings to light the careers of artists whose life stories and work may not be part of a traditional art history education. In this series, we're sharing stories from art history as a first step to building a more diverse canon.
Sculptor Meta Vaux Warrick Fuller was, by all accounts, a woman far ahead of her time…
Continua a leggere
…………………………………………………………………………………………………….